I opened a RBC Direct Investing RRSP account this fall. I've been poking around inside it and I bought a GIC and parked some cash in a High Interest Savings Account (mutual) fund. Yesterday I figured out how to check the real time price for shares or ETFs. Now I want to use up one of the "free" trades I received for opening the account by buying either some shares of a company or some units of an ETF mirroring an entire stock market.
Buying Shares or Units of an ETF in a RBC Direct Investing RRSP Account
Sign in to your account/s.
From the list of tabs across the top of the screen, click on Trade.
Calculating How Many Shares or Units You Can Buy
On the Stock Order Entry screen, there is an online calculator to check how many shares or units you can buy. If you click on the Calculate Shares link, a window opens with this calculator.
In the Amount to Invest: field, type the amount want to spend

for a Canadian stock in Canadian dollars; or
for an American stock in US dollars

Note: The program does not offer to tell you how much it would cost to buy US dollars using CAD.

Select the radio button for

a Canadian Equity or
a U.S. Equity.

Type the cost in the Stock Price field.
Click on the Calculate button to determine how many shares or units you can get.
The calculator assumes you will pay a commission of $28.95 for the trade. You can't adjust that.
Given the many constraints of the calculator, I'm not sure how much value it offers.
The Stock Order Entry – Step 1 of 3 Screen
From the drop-down list in the Account #: field, select the account for which you wish to purchase the shares or ETF.
Once you do, the screen will update to show you your Available Funds: for that account.
Remember it will not show the correct amount of Available Funds: if you have made a GIC purchase earlier in the day!
From the drop-down list in the Action: field, select Buy.
In the # of Shares: field
type the number of shares or units you wish to buy.
In the Symbol: field, type the listing symbol for the shares or ETF that you wish to purchase.
From the drop-down list for the Market: field, select CDN or US.
If you're interested, click on the Show Quote button to see the current price, volume, bid and ask.
In the Price: section

Select the radio button beside Market Price to enter an unlimited price order; or
Select the radio button beside the Limit drop-down list to set up a limit order

If you do, select Limit, Stop Limit or Stop from the drop-down list; then
in the Limit Price or the Stop Price field, type the appropriate price.

For an explanation of these choices, click on the Explain Choices link.

From the drop-down list for the Good Through: field, select

Day
any of the trading day dates for the following 19 days

In the Special Instructions: field, select the radio button beside either

In other words, select whether you will accept a partial fill of your order, or want to fill it only on an All or None basis.
Strangely enough, I cannot select All or None for a Limit Price order with a three-day Good Through: date.
UPDATE: Ok I looked this up. On some US exchanges you can place All or None orders. On the TSX and TSXV Canadian exchanges you can't. So you cannot place an All or None order on the TSX stock exchange.

Read the Important Notice advising you that you have to manually transfer the money from your other RBC sources into your account before the settlement date.
In the Contact Phone: field, enter the phone number you can be reached at while they are trying to fill your order.
Click on the Continue button.
Confirm Transaction – Step 2 of 3
Check the purchase order is for the correct account and verify the other details. In particular, check the name of the company or ETF you want to buy and check the Estimated Commission are both correct.
***IMPORTANT***
If you accept the information on this screen you will place your order!
RBC Direct Investing does NOT use a trading password.
This is your last chance to cancel the order before placing it.
Only if you are fully committed to making the order, should you click on the Confirm button.
Transaction Complete – Step 3 of 3
Your order has been placed. For reference, cut and paste the order ID: number, date and time, and other details and save it in a document.
If desired, click on the View Order Status link to check on your order.
If you are finished, click on the Sign out button.
For added security clear your browser cache and close your browser session.
How Buying Stocks and ETFs at RBC Direct Investing Differs Greatly from at BMO InvestorLine and CIBC Investor's Edge
I was very surprised to find that RBC Direct Investing does not use a trading password.
Both InvestorLine and Investor's Edge use a double password system. You need one password to access your account/s and another password to execute a trade. So I was a bit shocked to find I could enter an order to buy or sell an equity or ETF at Direct Investing without entering a trading password.
Frankly, I don't like it. I'll have to be doubly vigilant with my account access password. And I'll have to make darn sure I don't leave the account logged in when I go to turn on the rice cooker because the kids might suddenly decide to sell everything I hold! (Frequent readers will know most of my stocks are submerged 90% of the time; an unexpected sell would crystallize a loss I could do without.)
Did I Find a Snowy Yesterday?
And for those who were asking. Yes! I did find a Snowy yesterday. Of course it was a zillion metres away but that's ok. I didn't disturb her and I got some photos even if they aren't razor sharp.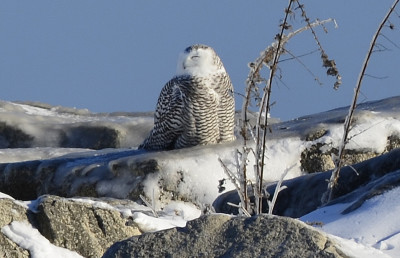 Related Reading
Join In
Would you prefer to have a trading password for your RBC Direct Investing account orders? Please share your views with a comment.