Would you like to get a bonus, get something for free, save some money, or get some cash back? This page lists current deals, bonuses and incentives for you.
To be honest, and I pride myself on being an honest Crooks, for a few of these offers I also receive a bonus for referring your business to them. That creates what's called a win-win-win: I get a bonus; you get a bonus; and a business gets a new customer.
This page summarizes any offers I have been able to round up for Financial Crooks readers. If an offer matches your investing needs, enjoy! As a canny consumer, though, I'm sure you won't select a product unless it meets your needs first, no matter how amazing the offer may sound. If in doubt, seek professional financial guidance. (Remember: I'm just a money-losing amateur!)
Without further ado, here they are in order of popularity:
Freebies, Deals, Rewards, Incentives, Bonuses, Referral Commissions and Other Perks
Tangerine (formerly ING Direct Canada)
New Client Cash Bonus
From now till January 31, 2017: Earn $50 for Starting an Account with $100! Tangerine is offering a $50 bonus for customers opening their first (ever) account with Tangerine (or ING Direct) if they use our Orange Key. (They sometimes also offer $50 for customers who open an account without an Orange Key if they use a bonus code offered on their home page.)
Our Orange Key is:
46470587S1

If you include it in your application and if you fund your new account with $100, you and I will each get $50 (but I have to pay tax on mine since this website is a business.)
You can read the details about the bonuses on the Tangerine website.
Or click on this Tangerine link to see the details and apply for an account. (Note: it only applies to people with no existing or previous accounts with Tangerine or ING Direct.)
Just copy our Orange Key — 46470587S1 — (if you're feeling kind) then click on the link below to sign up.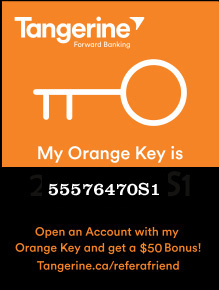 BMO InvestorLine
You can get $50 or more from BMO for opening an InvestorLine account.
*** "This Refer a Friend offer may be combined with other offers."***
So if you find another great deal for an InvestorLine account, combine the two offers and win even more!
If you've decided to take the plunge and set up a BMO InvestorLine account, you can score a bonus in cash from BMO. To get the bonus:
Open a new account (investment; RRSP; Spousal RRSP; RESP; etc.)
Input my Refer a Friend email address in the Refer a Friend Code field on your application form.
My BMO Refer a Friend code is as follows, if you take out the extra spaces and the ***s:
bet*** crooks @ financial***crooks . ***com
Fund the account with $50,000 CDN or more
Keep the account open and funded for sixty business days.
After sixty business days, BMO will deposit $50 into your account.
If you invest $250,000 CDN or more they will give you $100.
They will also deposit a cash bonus into my account. That's why I will consider you my "friend!"
The fine print: "A minimum balance of $50 000 CDN must be maintained in the new account for 60 days after opening the account. If the net new assets fall below $50,000 CDN before the end of the 60 day period due to withdrawals on your Qualifying Account, you will not qualify for the Promotion. If your net new assets fall below $50,000 CDN due to market fluctuations, you will still be eligible for the Promotion."
"The cash reward(s) will be deposited into your account up to 60 days after the new account has been funded."
"For registered accounts (RRSP or RESP accounts) the cash will be credited by BMO InvestorLine on behalf of the issuer, BMO Trust Company. The cash deposit will not be considered a contribution; you will not receive a tax receipt."
This won't work if you already have a different BMO InvestorLine account. Sorry.
Again, my BMO Refer a Friend Reference Code is:
bet*** crooks @ financial***crooks . ***com
if you take out the extra spaces and the ***'s
Please use it! Send it to your friends, too, if you want.
Special Offer Until November 2, 2014
InvestorLine also has another promotion on offer which can be combined with the Refer a Friend offer to maximize your winnings.
Open an account and invest $100,000 and enter promo code SMILE when you open the account to get $250 and 25 free trades.
Please read the InvestorLine bonus Terms and Conditions to see how they apply to your and your application at: https://www.bmo.com/home/popups/personal/terms.
If you do you'll spot fine print with info like
the 50 trades must be executed within 50 days (of what I'm not clear but it looks like as of the day you apply to open the account! That's a bit short since it might take 4-6 weeks to get the account open and fully funded.)
you don't actually get to trade for free: instead, more than 6 months after you open the account, they will *refund* you the cost of the trades up to a maximum amount
you must keep at least $100 000 in the account for at least 6 months
the bonus cash is paid after 6 months
So please read the Terms in detail as they seem rather complex.
CIBC Investor's Edge
To my disappointment, CIBC Investor's Edge does not offer a referral bonus program. They do have offers at various times of the year, though.
Last year, they had the following offer, which you might be able to talk them into offering again:
Investor's Edge was offering a promotion till October 31, 2013:
Transfer in $25,000 and get $100 cash back plus 25 free equity trades ; or
Transfer in $50,000 and get $200 cash back plus 50 free equity trades (if traded within 60 days of the transfer in date).
I don't know the details of this offer, but you can read more at:
https://www.cibc.com/ca/features/ie-cash-back-offer.html
I suspect if you phone them you can qualify for this promotion even now that it's technically expired. (Sadly, I don't get anything. This is just a regular ad.)
Update: I tried phoning them (in July 2014) and was able to get this promotion. So if you're interested, do try the phone!
RBC Direct Investing
I'm trying to get RBC to admit whether they have a referral bonus program or not. I'll keep you in the loop when I find out.
In the meantime, they are running an ad that says:
In the spring, RBC Direct Investing was offering reimbursement in Canadian dollars for 20 trades for up to 90 days after you opened an account, if you opened the account by March 3, 2014.
They don't seem to have a bonus running right now, though. You might be able to talk them into matching their spring promo if you phone though.
(Sadly, I don't get anything. This is just a regular ad.)
Scotia iTrade
Scotia iTrade has an offer in September 2014. For a customer opening a new account with at least $15,000 in assets, the customer will be reimbursed up to $9.99 Cdn 30 days after each trade for up to 100 trades all of which must be executed within the first 60 days after funding the account. You must use a certain code when setting up your account.
See the details (which are confusing) at: http://www.scotiabank.com/itrade/en/0,,4050,00.html?gclid=CMeV5cGA38ACFa5AMgodDBAAlw
(Sadly, I don't get anything. This is just a regular ad.)
Great Canadian Rebates
If you shop online, you can get cash back or amazon.ca gift certificates for many purchases just by starting your shopping on the Great Canadian Rebates website. While you can't get rewards for buying books from amazon.ca, you can get rewards for buying movies and other stuff. Personally, I have been buying a few things like instant film for my child's Fuji camera and a movie video from Walmart.ca. They have free delivery (now in June 2014) on almost everything. By signing in to my Great Canadian Rebates account, then clicking on the link to walmart.ca on their Quick Links list, I have added about 10 seconds to my time spent online shopping. For that, I have been getting 2-4% of my purchase price before tax back as amazon.ca gift e-certificates. It's not a huge savings but it doesn't cost me anything either. You can read about my first test of this program in my article How to Join Great Canadian Rebates.
If you join Great Canadian Rebates, and you use my referral code, I get a reward whenever you buy something. That's in addition to the reward you get. It doesn't cost you anything but it helps me and for that I would be sincerely pleased. Whether you sign up from my link ( https://www.greatcanadianrebates.ca/Register/171462/ ) or whether you ignore me and just sign up alone, you will get the current promotion of a $2 free sign up bonus.
But if you want to give me a reward that doesn't cost you anything, please consider clicking on this link — https://www.greatcanadianrebates.ca/Register/171462/  — and signing up.
HostGator Web Hosting
I use HostGator to host my websites. I'm a "do-it-yourselfer" so I don't have much advice to offer about how good or otherwise their customer support is. I do find that my sites are always up* and no one has complained to me about slow loading times. I find it very easy to FTP my files up and down from the servers and I find the cPanel interface easy to use. If you start up an account using my code, I will get a cash bonus.
Update: My site was down for several hours one day in the summer of 2013 when all of the HostGator servers were down.
If you're ready to set up a HostGator account, consider using my code by clicking on this ad. OK, I haven't put an ad here yet. My fault. You can probably get a better price by searching for deals anyway.
Gordon Pape
Internet Wealth Builder and Income Investor Newsletters
I don't receive anything, unfortunately, for recommending Gordon Pape's newsletters. However, I do periodically subscribe, and I generally find them interesting and useful. Both newsletters are good at pointing out whether stocks and other investments they are describing are meant for low or high risk investors. They also receive no commission if you buy anything, so their comments and recommendations are their personal opinions, not sales marketing bumpf. I find the more general discussions of how the markets work and how federal and international government decisions are impacting the markets are of interest to me. I generally only buy ultra-conservative stocks and I don't really need much investment advice, although I find it interesting to watch what others do.
Anyway, here are links to a back issue of each newsletter in case you're interested:
Books
I've reviewed various books on this website. If you are interested in buying one, and click on the link I provide, you will be taken to amazon.ca. If you choose to buy the book, I will receive a small amount for referring you to them instead of to a competitor like Indigo. Unfortunately, it doesn't save you any money, but you get to feel a warm, glowing feeling that you've helped pay for this free-to-you website.
Click here to see a page with all of the books I've reviewed.
Future Savings
As I find future offers I'll include them on this web page. It's surprisingly hard to find good offers that reward customers with cash or free items.
Credit Cards
Unfortunately for me, I don't feel comfortable referring people to credit cards. I think some people have ended up dangerously in debt because of the lure of putting things on credit that they can't afford to buy with cash. It's unfortunate because I could make a lot of money making referrals for credit cards. Some offer a $100 bonus for helping them obtain a new customer! I hope to write an article some day about why every cashier and teller is always trying to get you to sign up for a credit card. One thing to realize is that many of these people are getting a personal cash bonus if you sign up.