I set up my Tangerine Savings Account, over 7 years ago when it was called an ING Direct Investment Savings Account, and I linked it to my regular chequing account at a Big Canadian Bank. Recently, I decided to link it to a joint chequing account my husband and I have at a different Big Canadian Bank. I want to be able to move my money overnight from the Big Bank to the Tangerine account even though they will put a hold on the money once it lands at Tangerine. I could move the money by writing a cheque on the joint account and using the Cheque-In photo deposit app to cash it into my Tangerine Chequing Account. But I'd prefer not to waste a paper cheque, since the Big Bank charges us for each paper cheque even if it doesn't charge us to use one. And I'd prefer the money to go straight to my savings not route through the Tangerine chequing account. So today I decided to connect my Tangerine Savings Account to this joint chequing account at the Big Bank.
And Thanks for Using My Orange Key!
Just as an aside, I'd also like to thank the kind reader who opened a Tangerine account using my Orange Key recently. Thanks to them, I received $25. After paying the income tax and HST on that referral, and after combining it with that previous referral bonus I mentioned last month, I now have enough to buy a 2014 revised Sibley's bird guide. Thanks! (NOTE: YOU don't have to pay income tax or HST on any bonus received from Tangerine for opening a new account; I have to because I asked people visiting this website to consider using my Orange Key and this website is a (very very small) business.)
How Many Bank Accounts at Other Big Banks Can I Link to my Tangerine Account?
According to the Tangerine website as of June 2014, you can link your account to up to 3 bank accounts at other financial institutions.
I know that there are many bargain hunters who link to PC Financial and periodically transfer all their savings from one to the other to benefit from short-term-interest-rate bonus incentives. Personally, I haven't bothered with that. Yet. ; )
What Info Do I Need to Link my Bank Account to Tangerine?
For your account at a Big Canadian Bank (or other financial institution) you'll need to know
the transit number
the bank number
the account number
whether it's a US or Canadian dollar account
What's my Bank Number?
Well, if you have a chequing account this is easy to check. (Pun intended.)
At the bottom of your cheque is a serious of odd marks with numbers between them. If you squint at them for a while, you'll realize that near the beginning 5 of them are your bank account's transit number. Then there is an odd dash that is divided up into a few segments. Then there is a 3-digit number. That's your Bank Number. Then there's another symbol, mine looks like neutral Smiley face. Then there is your bank account number.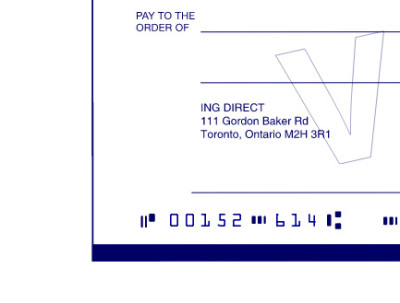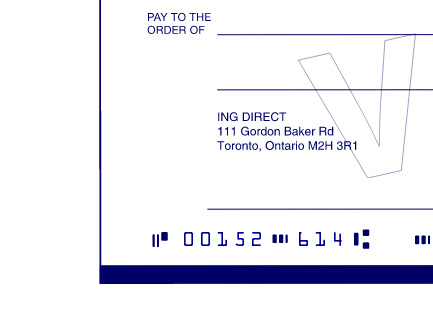 In this ING Direct cheque, the transit number is 00152 and the bank number is 614. (You didn't really think I was going to include my account number too, did you?)
If you don't have a chequing account, or if you can't decipher your cheque, you can
ask your bank what its Bank Number is; or
check online lists.
Common Bank Numbers in Canada
Some common Banks have the following Bank Numbers:
Bank of Montreal: 001
The Bank of Nova Scotia: 002
Canadian Imperial Bank of Commerce: 010
Royal Bank of Canada: 003
The Toronto-Dominion Bank: 004
You can see that either BMO invented these numbers or that CIBC was a very late arrival on the Canadian banking scene when it started as the Canadian Bank of Commerce in  1867.
Do I Need to Send in a Cheque to Link to my Tangerine Account?
No.
You don't need to send in a cheque to link an account if you already have your Tangerine account set up BEFORE you try to make this connection.
For example, when I first opened my Tangerine Savings account I sent in a cheque from my Big Bank chequing account to link the two. Now, though, I am linking to a different account at a different Big Bank without sending in a cheque.
Linking a Tangerine Savings Account to a Big Bank Joint Chequing Account
Sign In to Tangerine
Open your browser and go to www.tangerine.ca
Click on the link: I'm a Client, let me in!
Type the appropriate info in the Enter your Client Number, Card Number or Username text field.
Never click to select Remember me. Why would you want to give a criminal half of the info they need to break into your account?!
Click on the Go button.
Type the answer to your secret question in the Answer text field.
Click on the Next button.
Type your PIN in the Personal Identification Number text field.
Click on the Go button.
Add the New Account to Your List of External Accounts
From the list on the left side of the screen, click on the link: My info and options.
Click on the link: Links to external accounts.
Your existing account links are listed.
Click on the button Add account.
The Links to External Accounts Page
Read through the information.
If you're willing to go ahead

Type the transit number for your Big Bank account in the text field: Transit number
Type the number for your Big Bank or Credit Union etc, in the text field: Bank number
Type the account number for your Big Bank or Credit Union etc. account in the text field : Account number
Ensure the correct currency, Canadian or US dollars, is selected for that external bank account.

Click to select the box beside the statement "I confirm that the account information provided is for my personal deposit account" if and only if you are trying to link to your own personal account and not that of a friend, relative, business or other entity. You cannot use this page to link to anyone's account except your own personal account.
Click on the Submit button.
The Please Confirm Your Bank Details Page
Cool!
A pop-up window lists the bank name and address for our joint chequing account at the Big Bank. It's correct too!
If the details are correct, click the Yes button.
The Links to External Accounts Page
This page re-opens but with a message at the top.
Basically it says sometime in the next two business days, Tangerine will deposit two small amounts of money into my external/Big Bank bank account. I have to write down those amounts, then log in to Tangerine and report what they were. If I get it right, they will finalize connecting the two accounts. (This is what Google does too, when you tell them where to deposit your pay from AdSense.)
I can also see that beside the listing for my Big Bank account, which has been added to my list of external accounts, there is a Confirm button. That's what I'll need after they deposit the money in my account.
For now, though, I'm done.
Sign Out of Tangerine Safely
If you have no other banking, click on the Log me out link.
For increased security, clear your browser cache and close your browser session.
Check Your Email Alerts
I received an email notification that I had requested to add a link to a new external bank account.
Start Checking and Waiting (Beware: Sexist Content Included)
Start checking your Big Bank or Credit Union etc bank balance hourly to see if Tangerine has made the two test deposits yet.
Note: realistically the deposits will be credited when your account file is updated overnight. So you only need to check once per day. If they are not there yet, they won't be until at least the next day.
As one of my more annoying teachers in Grade 8 used to say: "Patience is a virtue; possess it if you can; found seldom in a woman; and never in a man."
How's that for sexist! And it was a He who kept quoting this.
Related Reading
Join In
Have you connected your Tangerine account to the maximum 3 other external bank accounts? Do you send your money flying through the electronic ether on a daily whim? Or do you prefer to shuffle your money with a paper trail and always use a cheque to move it from one account to another? Please share your opinions with a comment.

Yes, we bank with Tangerine.ca among other places. If you open your first account ever with Tangerine (or ING Direct) using our Orange Key below, and deposit $100 before August 31, 2017, you and we will both get a cash bonus of $50 each. (Yes, they did extend the promotion for another few months!) All you have to do is enter the Orange Key 46470587S1 when you are opening your Account, and you're set to go.
Just copy our Orange Key, then click on this Tangerine link to see the details and apply for an account. (Note: it only applies to people with no existing or previous accounts with Tangerine or ING Direct.)