A few days ago, I signed into my Tangerine account and set up a new link to an external bank account. In other words, I created a link between my Tangerine Savings account and our joint chequing account at a large Canadian bank. All from the comfort and privacy of my own home! As required, I waited for Tangerine to deposit 2 huge sums of money into my Big Bank account as a test of the link. Once those deposits were in, I went online to confirm the link and to test a transfer of my own money from our joint chequing account to my Tangerine savings account.
How to Confirm the Link from a Tangerine Account to a Different Bank's Account
As part of the setup process, Tangerine deposits two amounts into your account at your other bank, credit union or financial institution. Once the money appears in your transaction history or passbook, you can use the amounts of those two deposits to confirm the link between the accounts.
So first I updated my passbook at a Big Canadian Bank.
(Yep: I have a passbook! There's no electronic access, actually, to that joint chequing account. And nope we don't pay any fees for the account. That's the benefit of "grandfathering" and of opening an account in the days before Blue Gray Gnatcatchers added Ontario to their range.)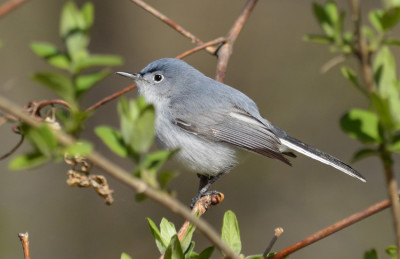 A Blue Grey Gnatcatcher Keeps an Eye On Me Keeping An Eye on Its Nest
Now comes the easy part: confirming the link at Tangerine.
Sign in to your Tangerine account.
From the list on the left side of the screen, click on My info and options.
Click on Links to external accounts.
Beside the name of the new account you're adding the connection to, click on the Confirm button.
Read the instructions. Then type in the amounts that were deposited in your non-Tangerine bank account. Then click on the Confirm button.
If all goes well, you'll get the message: You've successfully validated a new linked account.
How Long Did It Take Tangerine to Link the Accounts?
I added the External Account to my list on Monday.
The amounts were deposited overnight on Tuesday night and I could get the numbers on Wednesday morning.
I just confirmed the account Wednesday evening.
That's about 2 days: Pretty good!
How to Transfer Cash from my Big Canadian Bank to My Tangerine Savings Account
Now to raid my husband's hard-earned money!
From the list of links on the left of the screen, click on Move my money.
Check the currency selected is correct. (CAD for Canadian dollars is selected, or you can click on USD for US dollars.)
Type how much money you want to transfer in the Amount text field.
From the From drop-down list, select the account from which you wish to withdraw the money.
For example, you could make a withdrawal from your account at

a Big Canadian Bank,
a credit union,
a trust company,
another financial institution or even
PC Financial.

From the To drop-down list, select the account into which you wish to deposit the money.
In the When field, click to select one of

Ongoing is for a steady stream of withdrawals, for example once a week or once a month.

Click on the Next button.
Review the details on the You're almost done screen. If they are ok, click on the Confirm button.
Make a note of your confirmation number in case anything doesn't work.
Note that it may take 2 business days for the money to be transferred AND there will be a hold placed on the funds after it arrives so you can't immediately spend it. (Tangerine will start paying interest once the money lands in your account, though.)
Sign Out of Tangerine Safely
If you have no other banking, click on the Log me out link.
For increased security, clear your browser cache and close your browser session.
That's it!
And apparently I made 23 cents for doing this as so far Tangerine has not debited any of my accounts for the amount they deposited in my Big Bank Account!
Related Reading
Join In
Do you shuffle your money from bank to bank like a gambler arcing a deck of cards through the air? Has your money ever gone astray? Please share your experiences with a comment.

Yes, we bank with Tangerine.ca among other places. If you open your first account ever with Tangerine (or ING Direct) using our Orange Key below, and deposit $100 before April 30, 2018, you and we will both get a cash bonus of $50 each. (Yes, they did extend the promotion for another few months!) All you have to do is enter the Orange Key 46470587S1 when you are opening your Account, and you're set to go.
Just copy our Orange Key, then click on this Tangerine link to see the details and apply for an account. (Note: it only applies to people with no existing or previous accounts with Tangerine or ING Direct.)