Several years ago, my husband and I did not have any self-directed investment plans. I had many of my RRSP investments at BMO, so I decided to open an InvestorLine account. After getting comfortable with their program, I started wondering if my husband should also open an account. And then, as if to encourage making a decision, BMO began a referral program. I wondered if that meant I could earn a referral bonus for getting a relative to invest with InvestorLine.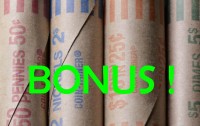 The referral bonus program BMO was offering at that time included a $100 cash bonus for the person making the referral, and a $50 cash bonus for the person starting the new InvestorLine account.
Are Spouses Eligible for InvestorLine Referral Bonuses?
I scrutinized all of the fine print and could not find a disclaimer stating that spouses were not eligible for the bonus.
So figuring it really didn't matter too much one way or the other, my husband applied for a BMO InvestorLine RRSP account and quoted my referral number.


Did It Payout?
Fast forward a year. I had long since given up on ever getting any referral bonus. However, my husband's BMO InvestorLine account was working well, so everything was fine.
Then one day, 13.5 months after applying, a new line item showed up in both of our Transaction History logs. It took me a few minutes to figure it out, but it was our referral bonus!
So, yes, apparently a spouse can receive a referral bonus from BMO InvestorLine, providing there is no change to the existing rules.
Free money is always a bonus. Enjoy!
Recommended Reading:
Join In
Have you ever got a Referral Bonus from BMO or any other self-directed investing account? Was the referral for a friend or a relative? Were there any unexpected tricks or delays? Please share your experience with a comment.