The simplest way for me to buy US dollars at the best rate was from ING Direct (now Tangerine.ca) in 2012. Since then ING Direct was purchased by the Bank of Nova Scotia / ScotiaBank so it is no longer necessarily the best place to buy your US dollars.
Check the Cost to Buy US Dollars Easily Online
Tangerine ING Direct post their buy and sell rates online. No need to phone anyone to see what it costs. You can even check at 3 a.m. if you're up and online.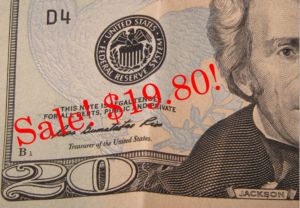 To find the rates, go to the www.tangerine.ca home page. Click on the Rates button. The US dollar exchange rates are at the very bottom of their long list of various rates.


How To Read The Tangerine US and CA Dollar Exchange Rates
I was somewhat confused by the way they post their rates the first time I looked.
Here's an example to clarify their listings:
One day in October 2012, they posted that
Exchange Rate – Buying    US $ 0.990
Exchange Rate – Selling    US $ 0.961
That means that if you are buying one US dollar, it will cost you 99.0 cents Canadian.
If you are selling one US dollar to them, they will pay you 96.1 cents Canadian.
Update: Now in 2017, the picture is much more miserable if you need to buy US Dollars. We're nowhere near parity any more!
Comparing the Tangerine Exchange Rates to Those at the Big Banks
Obviously, like all banks Tangerine are making a profit on the buying and selling of US dollars. But they are making LESS of a profit than say CIBC or BMO.
For instance, at this same time BMO is quoting that
to buy one US dollar will cost you 1.0055 dollars Canadian
to sell one US dollar, they will pay you 95.15 cents Canadian
And CIBC states that you have to go to your branch to find out the rate, which they can change at any time during the day.
Now you may be thinking, so it costs ($1.0055-.990) = .0155 cents more per dollar to buy an American dollar at BMO. Who cares? BMO likes that thinking!
If you're buying dollars for a family of 4 travelling to Florida for a week, you might need $5000 US. That would be a price difference of $77.50. Again, may not matter to you. To me, that's worth a click of the mouse or two. (No Mickey Mouse pun intended.)
But How Do I Get the US Dollars Out of Tangerine?
Ok, there's always a drawback. We get our US dollars out of Tangerine by transferring them to our CIBC US Dollar account. Then we withdraw them at CIBC. It costs us $0.75 US to make a withdrawal from our CIBC US Dollar account. The transfer out from Tangerine costs nothing.
Why Have a CIBC US Dollar Account?
We chose a CIBC US Dollar account because there are no fees for the account and no minimum balance. There is no fee to make a deposit to the CIBC account. So keeping the account active (requiring one transaction every 6 months) is as easy as depositing a US dollar every 5 months or so.
UPDATE: As of spring 2013, CIBC no longer provides free paper statements for this type of account. You can get free e-statements though.
The Canadian Dollar is Up, When Will the Tangerine US Dollar Price Go Down?
They change the rates in what seems to be almost a random pattern, so it isn't easy to predict when they will respond to the daily fluctuations in the value of the dollar.
The good thing is there is no additional fee to make the purchase. The only fee is the one included in the posted exchange rate. So you can always purchase a bit at a time. I never pay more than $1 Canadian for $1 US, but some days I do get more of a bargain than others.(In 2017 of course, this is no longer an option: now it's going to cost a LOT more than 1 CAD to buy 1 USD.)
What's the Best Way to Exchange CAD to USD for Investors?
If you are buying US dollars for investing purposes you will probably be exchanging a lot more than the few thousand dollars described in this article. In that case, you should consider performing the exchange by using Norbert's Gambit in a brokerage account. There are also large Forex conversion companies that will likely offer a better rate than any bank.
Want to Know How the ExchangeRates Compare in (almost) 2105?
I've written an updated article comparing rates on December 26, 2014: Tangerine still wins.
Related Reading
Join In
Do you try to save money on buying your US dollars before a trip or US purchase? How do you try to get the best exchange rate? Please share your experiences with a comment.

Yes, we bank with Tangerine.ca among other places. If you open your first account ever with Tangerine (or ING Direct) using our Orange Key below, and deposit $100 before January 31, 2018, you and we will both get a cash bonus of $50 each. (Yes, they did extend the promotion for another few months!) All you have to do is enter the Orange Key 46470587S1 when you are opening your Account, and you're set to go.
Just copy our Orange Key, then click on this Tangerine link to see the details and apply for an account. (Note: it only applies to people with no existing or previous accounts with Tangerine or ING Direct.)